With materials expertise and state-of-the-art lightweight solutions for the mobility of the future..
An entire industry goes electric. In the wake of the current industry dynamics, increasing energy costs and changing consumer behavior, innovative and sustainable solutions for electric mobility are more in the focus of manufacturers and the supply chain than ever before. Resource-saving and cost-effective composite and material solutions, lightweight components, material substitution, complex geometries in the tightest of installation spaces – right now, almost 2/3 of our annual sales are achieved with automotive customers, not least because our company has made the shift from being a straightforward toolmaker to a high-performance full-service provider for automotive components and assemblies.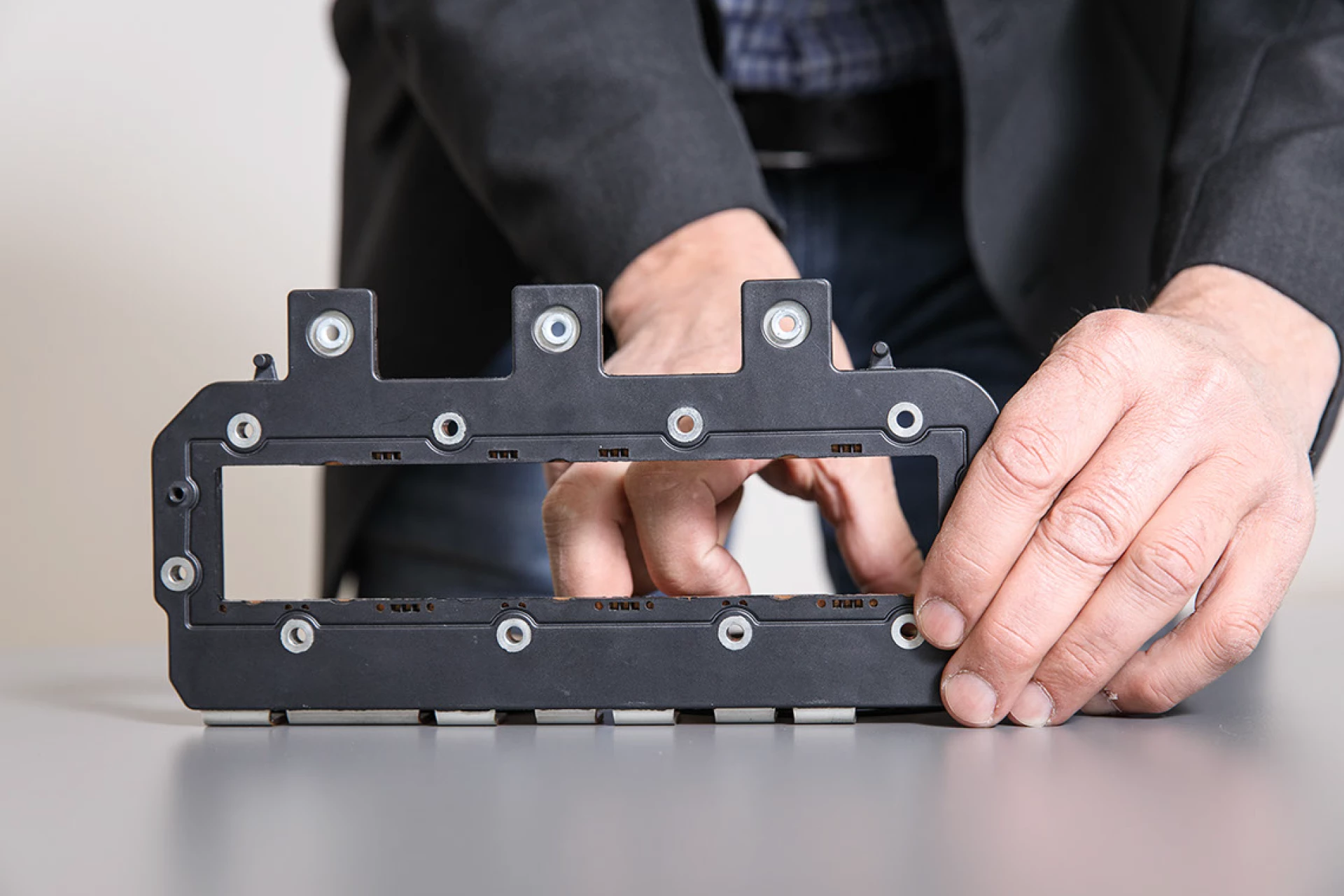 Our strongest driving force: Electric mobility
Over 160,000 automotive precision components now leave our plant in Knittelfeld, Upper Austria, each month. In addition to state-of-the-art toolmaking and mold-making technologies, injection molding machines with clamping forces of 50 to 300 tons are available for series production. We have succeeded in expanding all our manufacturing capacities in recent years to fulfill the increasing order volumes of our customers. In this respect, investments have been made in a new injection molding production hall and the company premises have been continuously extended.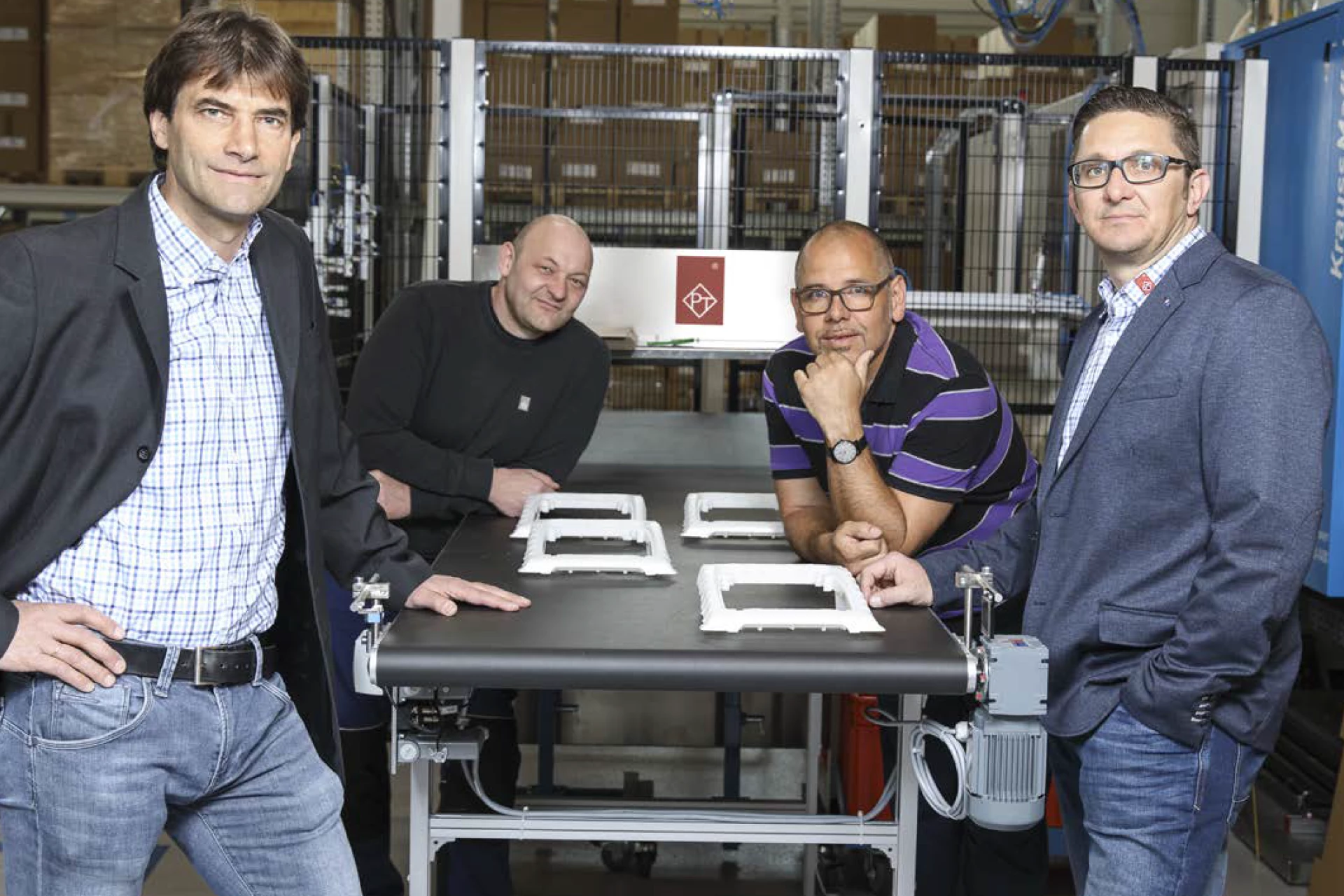 Harald Walzl (Sales & Development), Robert Maier (Quality Management), Enrico Seibert (Production Management) and Gerhard Reisner (Operations Management), from left.
A wide range of interior and exterior parts are manufactured in an cost-effective and holistic process, such as electrical or electronic components, mirror drives, control casings as well as components for headlights or airbag safety systems with individual requirements surrounding their function, weight and aesthetics. Every step in the value chain is checked and documented on the basis of our certified quality management.
At the same time, in this apparently drive-neutral product range, electric mobility also acts as an multiplier. In the area of materials in particular, automotive manufacturers are experimenting to achieve the maximum reduction in weight and the maximum stability for their vehicles. The aim is to build lightweight vehicles which conserve resources. Due to electric mobility and the trend toward autonomous driving in particular, this is an area in which we can see new opportunities coming our way.
"Alternative propulsion systems and the associated plethora of sensor technology require the development of innovative plug connections. It is here, in particular, that we can offer our customers genuine added value and contribute with our know-how in the areas of product design, mold construction and manufacturing."

Harald Walzl

Development and sales managers
Advantage in product design and development
In recent decades, we have developed a particular strength in the area of the optimization and testing of materials and their feasibility.
"Thanks to the latest simulation software, we can identify potential weak points early on in the development process and make the necessary adjustments here and now."

Gerhard Reisner

Operations Manager
According to a study by the highly-regarded Boston Consulting Group, the demand and need for such expertise is set to continue to grow over the course of the coming years. In this respect, by 2030, the market will be evenly split between conventional and alternative forms of propulsion, with 17 percent purely electric and 33 percent hybrid vehicles. In addition to the battery, resource-saving materials are particularly crucial for the supplier industry.